16 janvier 2013
3
16
/

01
/

janvier
/

2013
14:56

Site internet : www.denovo-beaute.com
Type de cosmétiques : Soins capillaires


En dépit de noms tels que "Crème lactée" et "Oléo silk", la marque m'a bien confirmé être vegan:
" [...]Nos produits sont en effet tous Vegan, nous n'utilisons AUCUN ingrédient issu du monde animal, y compris :

- Miel
- Soie naturelle
- Cire d'abeille
- Gelée royale ou propolis
- Bave d'escargot
- Huile de vison
etc...
[...]"
DeNovo a été crée en 2010 par Alice Roux, et utilise des produits le plus naturel possible, en excluant les ingrédients tels que parabens, parfums et colorants synthétiques et autres éléments agressifs.
Les principaux ingrédients viennent de France, excepté l'huile de sésame (Mali), et l'huile de macadamia (Kenya).
La gamme propose pour l'instant trois produits différents, nourrissants pour les cheveux.
Sur le site, livraisons uniquement vers la France métropolitaine, si vous connaissez d'autres sites via lesquels sont dispo, n'hésitez pas à partager l'info :o)
DeNove was created in 2010 by Alice Roux, using mostly natural ingredients, and avoiding the one such as parabens, synthetic perfumes and colouring and other toxic stuff.
Most ingredients are from France, except for the sesam oil (Mali) and macadamia oil (Kenya).
The brand offers for now three different products, for hair nutrition.
On the website there's only shipping to France, if you ever know some other website from where one could order, please feel free to share :o)
Crème lactée "émulsion hydratante"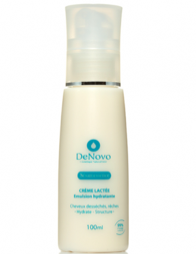 Cérat fondant "baume nourrissant"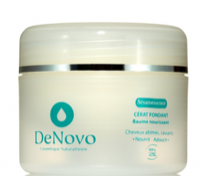 Oléo silk "complexe relipidant"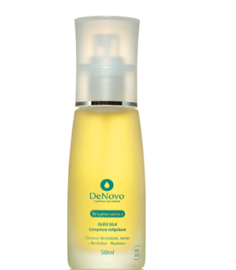 Vous avez déjà testé? Votre avis? Les ingrédients ont vraiment l'air de qualité pour chouchouter nos cheveux!